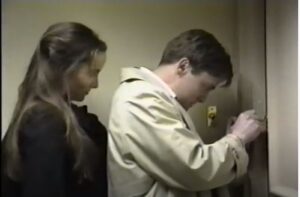 Best Drama Award at BAVA (British Amateur Video Awards)
 Best Actress Award for Nina Young
A short Film Noir. After a night on the town, middle class London couple return to his apartment. It is claustrophobic as is their relationship. As they get to know each other we cannot be sure who is the protagonist and who is the intended victim. The synthesized music adds to the tension. The narrative swings from horror to comedy.
Notes from the producer
Directed and co-edited by John Segal  and writer/producer/actor Andrew Castell who collected friends to make this no budget thriller. The aim was to enter it into the BAVA (British Amateur Video Awards) and hopefully win a cash prize.
It did.
It won the category of Best Drama and the Actress Nina Young secured the Best Actress Award.
The sum just covered the professional editing suite used to cut the video together.
Mr John Ivil used his own video recording equipment and Gary Tarn provided his composing services for free.
The story had to be simple and without any location costs. The passage at the start of the video is St Brides Passage off Fleet Street and the flat in Fetter lane belonged to the protagonist.
Castell went on to perform in situation comedy (the Return of Shelley) and Young appeared in a Bond Film. The director Segal moved to Nova Scotia and was never to be seen again.